Share Post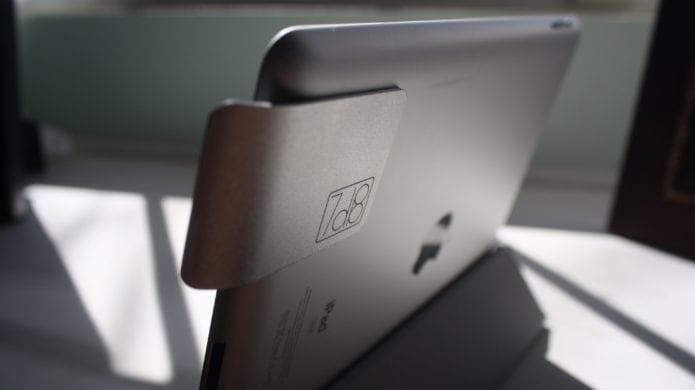 As the Apple iPad has become the best-selling piece of computing hardware in history, one common complaint marred the tablet's near-perfect reviews. When the iPad is lying flat on a tabletop, or when it's standing up in the most popular cases, the sound quality isn't optimal because the iPad's speaker is on the back of the device.
Some iPad buyers heard a problem, but Thomas Reed saw an opportunity to sell iPad accessories. With his wife and a business partner, Reed set out to improve the iPad's sound quality, and build his own small business by improving the listening experience for iPad users.
Reed and his wife Jennifer launched 7decibels, LLC in March of 2013 with a business partner, Aleksey Matyushev, one of the top mechanical engineers in his field. Together, they created the company's first product: an iPad accessory that amplifies sound.
The product is called the Sabine sound amplifier, in part because it takes inspiration from the 19th century architectural acoustics work of Wallace Sabine. Sabine was a physicist who studied how people's ears process sound under different conditions. He pioneered the idea of using sound baffles and directional architecture – that is using hard surfaces to bounce sound waves in a way that makes the sound better for the human ear, and soft surfaces to absorb sound for the same purpose.
The Sabine sound amplifier is an iPad accessory enhances sound quality without the need for an extra speaker, battery, or power source. The sleek aluminum Sabine sound amplifier is elegant and thin – just 2X3" in size — and fits in well with the iPad's award-winning design.
"In a sense, it's a sound diverter," Reed said. "It amplifies the sound by redirecting it. Other companies have produced plastic sound diverters, but we believe that Apple buyers prefer a better looking accessory over one that could detract from the iPad's overall look."
Finding Inspiration and Capital
The three partners in 7decibels have primarily relied on personal investment in the company, but also completed a successful Kickstarter campaign to raise capital for product development. The company has already started selling the Sabine through online sales, and hopes to expand into retail sales as well.
Finding capital has been a bit challenging for the Florida-based start-up, but the Reeds had no problem finding the inspiration for the Sabine sound amplifier. "My wife and I like to watch TV on our iPads," he said. "We were always cupping our hands behind the speaker to amplify the sound. I got tired of it, but I couldn't find any iPad accessories that improved sound quality without adding a bulky external speaker or requiring a power supply. So I finally decided to do something about it by taking the plunge to start a business."
The Sabine sound amplifier for iPad sells for $25, and is available on the company's website. A version for the iPad mini is expected to hit the market shortly.
Reed's background and training is in electrical engineering. Like other small business owners, the business side of running a small business was new to him. "I'm thoroughly enjoying the business side of everything," he says. "It's a neat challenge, unlike anything I've done before.
"I understand how to solve technical problems, so I'm expanding my knowledge on the business aspects of it all to make profitable and long-term projections. Working with vendors and distributors has been the most interesting part."
Reed used the word "relentless" to describe how his company has handled online marketing. However, it hasn't cost him a dime.
"We've been posting about it on technology blogs and news blogs," he said. "We've had a fair amount of success doing this. We were also covered by MacLife magazine and the tech site Mashable.com. Believe it or not, we haven't spent anything on advertising yet."
Making Sacrifices to Become a Small Business Owner

Every small business owner faces obstacles when getting a company off the ground. For Reed, one of the biggest challenges was finding vendors and manufacturing partners for his product.
"I had some very stringent requirements for it, so finding a manufacturer to accommodate us was tough in the beginning."
His most important tip for aspiring small business owners is to take advantage of every possible resource, especially when it comes to technology.
"The biggest thing for us has been using cloud-based services," he said. "As a team, we can collaborate in a way that's easy without sending e-mails back and forth. Without this, we wouldn't have been able to share our ideas smoothly and quickly."
Although he loves running the business, Reed admits that there are some sacrifices that have to be made.
"You'll definitely have to give up sleep to get it all going," he said. "It has been stressful and trying on the relationship with my wife, but she's been extremely supportive and understanding.
The Importance of Accounting Assistance
As a client of 1-800Accountant, Reed gives high praise to the accounting firm.
"In terms of accounting, the biggest thing so far has been discovering some of the strategies we can employ to keep more of our income," he said. "There's a lot more out there than I knew I could take advantage of, especially with the tax planning aspect.
"To have a service like 1-800Accountant on our side has been very helpful," he said. "I've talked to local accountants, but they didn't know much about how to collect sales tax in different states. 1-800Accountant has the experience on a national level to be able to answer these questions."
He loves the convenience of the service as well. "I can schedule a call whenever I need to for any questions that come up," he said. "I also like the fact that it's a very comprehensive approach to go through the impact of business taxes on my personal taxes."
Reed added that the cost of the service is definitely worth the investment because of how unique it is compared to other companies.
"The service has been excellent," he said. "The initial pricing we got seemed a little challenging for us to cover, but as we thought about it and compared it to local accountants, we knew it was well worth it."
To learn more about 7decibels, LLC and purchase the Sabine, visit www.7decibels.com.