Share Post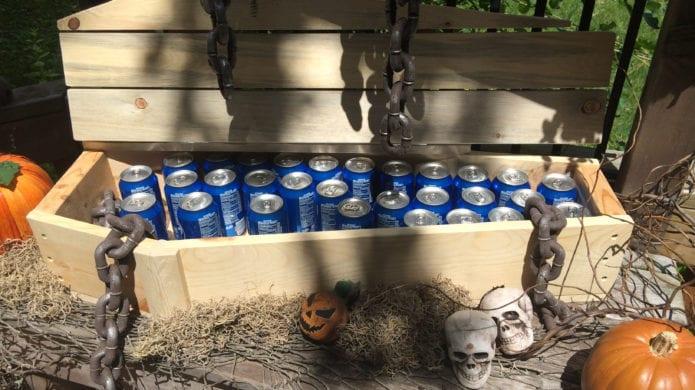 If you've ever been spooked by an eerie casket at your local haunted house, entrepreneur Ray Kustush may have been the one who provided the scary prop.
Kustush is the CEO of Cass-Kits, LLC, a small business he's able to manage right out of his home office in Lisle, Illinois. He and his wife, Cyndi, officially formed the unique enterprise in March 2014.
As its name suggests, Cass-Kits sells wood caskets that can be fully assembled by anyone. They are made of pine wood and come in a kit that includes pre-cut wood, screws, hinges, hardware, and even a bottle of glue.
According to Kustush, there were several reasons he chose to get into the Halloween prop industry and start his own small business.
"I'm a remodeling carpenter by trade and have had my own business for the past 10 years or so," he explains. "I still have that company, but I wanted to segue into something more enjoyable where I can design and build products I like for a holiday I love and make a living doing it."
The caskets are currently all sold online. They come in sizes from 3 feet to 6 feet long and can be used for Halloween parties, haunted houses, theater performances, and films.
Kustush says it might have been fate that drove him to launch such a company.
"I was born close to Halloween, and my mother-in-law was born on Halloween," he says.
He adds that he's always enjoyed celebrating the popular holiday. In fact, he points out that Halloween is second only to Christmas in terms of retail sales. This makes it a bit of a challenge to compete in the field, but he feels like he has carved out a special niche. Cass-Kits is the only such company around that ships casket kits by mail.
Kustush says anyone from 12 up to 100 years of age can enjoy – or be frightened by – the caskets. However, he is looking to market the 3-footers as coolers for parties that he says can hold up to 45 beverage cans. They just have to be lined with heavy plastic sheeting.
To advertise the newly established small business, Kustush has a website – www.cass-kits.com – and is working on social media fan pages on Facebook and other social networks. His wife, Cyndi, works in marketing and PR, so he feels fortunate to have her on his team for small business marketing assistance. Eventually, he hopes to get the casket kits into brick-and-mortar Halloween stores nationwide.
Advice for Aspiring Entrepreneurs & Small Business Owners
Thanks to his own experience launching Cass-Kits and his remodeling company, Kustush offers some insightful pieces of advice for aspiring entrepreneurs hoping to take the leap of faith into business ownership in the near future.
"Go with what you know and pick something you're comfortable doing," he advises. "Just jump in, but look ahead as well to make sure you're on the right track from the beginning. You've got to believe in something. Otherwise, it will never be successful. Also, have a Plan B like keeping a day job just in case things don't work out for you."
Pros & Cons to Self-Employment
Kustush admits there are both positives and negatives to being your own boss.
"You have to be concerned with things like liability insurance and doing your best not to get in too far over your head with startup costs and unnecessary tools or equipment," he explains. "You also have to worry about providing a service and getting paid. You are definitely not guaranteed a regular paycheck when you work for yourself. One advantage is that you don't have to punch a time clock, but that's a blessing and a curse because you have to be mindful of your time. It's easy to lose track of time management , especially when work is slow. You have to stay on track."
Kustush is a client of 1-800Accountant. In his words, he's very grateful to have an accounting service that offers so much support on his side.
"Having 1-800Accountant on my team helps me not have to worry about any business tax or accounting issues. I don't have to worry about missing quarterly tax payments or any of the other numerous ongoing obligations that small business owners face."
Photo credit: The photograph of the Cass-Kit included in this blog post was provided by Cass-Kits, LLC and is used with permission.