Share Post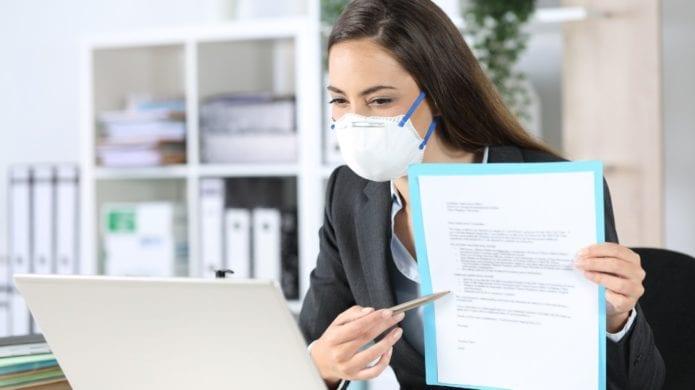 If you own or manage a small business, then 2020 has likely served as a master class in responding to adversity, figuring out how best to protect your employees, and making plans for an uncertain future. Perhaps you have secured federal relief funds or adjusted your business model. Still, you'll also want to consider the value of certain legal documents to minimize your legal exposure and protect your bottom line.
Businesses are affected by the pandemic in different ways, but taking certain legal precautions can mean the difference between getting through this difficult time or closing your doors for good. Every small business should consider the following five legal documents as it navigates the challenges of operating during the coronavirus pandemic.
Work from Home Agreement
Thanks to instant messaging apps, videoconferencing, and the internet in general, it's easier than ever for many employees to work from home. You want to make sure your telecommuting employees are being productive, remain in contact with their colleagues, and abide by workplace rules. Regardless, it would be best if you also acknowledged the unique challenges of working under the same roof as spouses and children, as well as other possible distractions. 
One way to make sure everyone's on the same page regarding work requirements and expectations when working remotely is to draft a Work from Home Agreement for your employees. This agreement may cover work hours, breaks, employer-owned equipment, company-wide policies, and information specific to each individual. By signing, your employees are on notice for any disciplinary action you may need to take should they fail to follow the terms of the agreement.  
Work from Home Policy
Whereas the Work from Home Agreement serves as a contract of sorts between telecommuting employees and their employer, the Work from Home Policy details the eligibility requirements and expectations for anyone who wishes to work from home. It may be a stand-alone document or part of your broader Employee Handbook, but it generally serves as a guide to working from home and would be presented to all interested parties before any agreement.
Suppose you have asked employees to work from home during the COVID-19 crisis to comply with social distancing guidelines. In that case, this document could help your employees make the transition from the office. For example, they may need help setting up their home workspaces or learning how to use videoconferencing and workflow programs. Your policy could include instructions or contacts for additional support.  
Furlough Letter
If you find yourself in the unenviable position of having to cut payroll, you may decide to furlough your employees rather than lay them off. While a layoff essentially severs the employment relationship, a furlough is temporary, unpaid leave that allows employees to keep their health care coverage and other benefits without working or earning wages. Furloughs will enable you to keep your best employees while still reducing payroll costs.
The Furlough Letter is a legal document that serves as official notice that the employee is being placed on temporary, unpaid leave and must stop working. This document can protect you in the event of a dispute, but it also can be useful for furloughed employees who may need proof of their changed financial situation.
Keep in mind that you are legally required to pay furloughed employees who perform any work duties at all while on furlough. Therefore, it's a good idea to freeze their email and other work accounts, recover their employer-issued laptops and communication devices, and otherwise ensure that they refrain from working until the furlough ends.
Termination Letter
Whether you've had to lay off an employee or fire one for cause, termination is never a pleasant process, especially for small businesses. Sometimes it's necessary to let someone go, especially if a global pandemic has forced you to cut payroll drastically. Just make sure you're doing it in a way that's both legally defensible and compassionate. A questionable or poorly documented termination could come back to bite you in the form of a wrongful termination lawsuit.
One way to protect your small business from legal exposure, while also providing as much information and guidance as possible for the affected employee, is to draft a Termination Letter. If it's a layoff, you may want to include details about why you had to let the person go (for example, the financial hardship your business is experiencing). If it's a termination for cause, you might want to show a pattern of poor performance or inappropriate behavior leading up to the termination, preferably with documented references to past incidents.
It may help ensure that your reason for the termination is clearly outlined in the Employee Handbook or Employment Contract. The Termination Letter also includes information about the terminated employee's last paycheck, unpaid vacation time, retirement accounts, how to return company-owned equipment, and other separation details.  
Force Majeure Notice
The term "force majeure" roughly translates to "superior force." It has been interpreted to mean an "act of God" and, in legal terms, refers to any unforeseen, uncontrollable event that interrupts either party's ability to perform contractual duties. If, for example, a governor's order to shelter in place in response to the coronavirus pandemic makes it impossible for your business to fulfill its contractual obligation for a planned, in-person event, a properly worded force majeure clause could protect you from a breach of contract claim.
If the original contract doesn't have a force majeure clause, or if it doesn't list "pandemic" or "global health crisis" among the possible triggering events, a Force Majeure Notice may allow the parties — if they are in agreement — to reschedule or otherwise renegotiate the terms of the contract without penalty. The key to a successful Force Majeure Notice is to ensure that it addresses all parties' needs and concerns. After all, most parties would rather avoid a standoff or costly litigation.
No business is too small to have the right legal protections in place.
You have worked too hard to get your small business up and running to see your dreams vanish due to a legal dispute. While you can't shield your business from every possible threat, and some of the most highly skilled entrepreneurs do fail from time to time, your best policy is to prepare for the worst. This includes using certain legal documents to minimize your legal exposure and protect you from the unexpected. Work with the professionals to give your business every advantage possible.