Share Post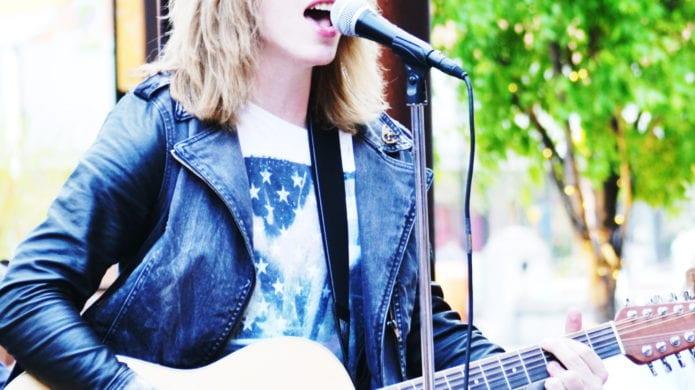 Jackie Stone says she took her son, Marshall, to a parade when he was 5 years old.
He started to cry.
"What's wrong?" she asked him.
"I want to be in the parade!" he exclaimed.
At that point, Stone knew her son would one day go on to be a successful performer.
Today, Jackie and 21-year-old Marshall are now proud business partners of Sound of Stone, LLC in Westminster, Maryland. They officially put up the small business in May 2014.
Through the company, Marshall Stone works as a singer-songwriter. This August, he released his first album – Good Times Never Fade, featuring Rami Jaffee of the Foo Fighters and produced by Shane Gamble, a CMT-featured artist.
"When I first listened to music at a young age, it made me feel happy," he says. "So I wanted to give back and make sure people get some happiness out of my music."
He writes songs in multiple genres, including rock, pop, country, and a blend of these. He also plays several instruments – acoustic guitar, bass, and drums. He doesn't like to single any out, but his favorite tune he has written is called "Silver Shroud," a song he says is about looking back but moving toward a bright future.
"It gets you thinking about all the positive things ahead of you," he says.
He has already performed in large venues around Maryland, including Rams Head Live, Recher Theatre, Baltimore Soundstage, House of Rock, and Fish Head Cantina. He has plans to go on tour to Nashville and Los Angeles, and other major cities.
Jackie, his proud mom, says her son has always been passionate about music.
"By the age of 15, he had already written over 150 songs," she says. "As a teenager, he attended a music school in Baltimore and was later part of a hard rock band called The Euphorics for 2 years. Now he has his own album. He has really come so far, and I'm so glad I can give him the proper foundation through this small business."
From her perspective, she compares Marshall to Ed Sheeran, a young British singer-songwriter who made it big when he was the opening act for Taylor Swift. She believes a similar experience to open for a well-known artist would be a tremendous boost for her son's career. She also feels making contacts in the music industry is a big key to startup success, which he has been doing already.
Jackie discusses what she and Marshall enjoy most about this whole experience.
"For me, it's really a great feeling to go to venues to see him perform. It's kind of like reliving my youth. It keeps you going, and it's exciting to see live performances. For Marshall, he loves to be in front of an audience. His music really resonates with everyone."
Competition in the Music Industry
She talks about the amount of competition among musicians – and how Marshall is trying to separate himself from the rest of the pack.
"Someone once told me that making it big in the music industry is like trying to be in the NFL," she says. "It's fierce. I think the fact that he's so dedicated and has a tremendous work ethic will carry him. In music, they call it the "ear worm" – songs that stick in your head. That's kind of what he is going for."
To make other potential listeners aware of Marshall Stone and his music, the company has put money into online marketing, specifically through Google and YouTube ads. In addition, there is a website – www.marshallstonemusic.com – and a Facebook page.
Like all other entrepreneurs, the Stones have both faced various challenges in getting Sound of Stone, LLC off the ground. "
"A lot of it has been like climbing a mountain backwards," Jackie explains. "Everything takes so much longer than you think it should. For instance, there was something we were working on that we thought would take just a few hours to get done, but it took 2 months."
Tips on Starting a Small Business
Based on personal experience, she offers up some insightful advice on what to expect when starting a business for the first time.
"The time commitment is huge," she says. "It's so overwhelming that you can't do it alone. Marshall and I would have given up a long time ago if we hadn't had help. It's important to hire people who are competent. Also, find lots of resources out there that can benefit you, but not necessarily the most expensive ones. I've shopped around for different things, and I've found much cheaper options for certain services. The biggest thing is to pick and choose where to put your money."
Marshall talks about the future goals his sights are set on as a musician.
"I want to make this as big as I possibly can," he says. "Being a musician is what I've always wanted to do. I love being able to perform on stage and see people in the crowd smiling and enjoying the music."
Experience with 1-800Accountant
As clients of 1-800Accountant, the Stones say they've been quite happy with the small business accounting support.
"Whenever I call, they get back with me right away," Jackie says. "It's very reassuring to know that 1-800Accountant is there for us. I would certainly recommend the firm to anyone who is starting a business and needs accounting assistance."
To sample Marshall Stone's music, visit www.marshallstonemusic.com.
Photo credit: The photograph of Marshall Stone included in this blog post was provided by Sound of Stone, LLC and is used with permission.