Share Post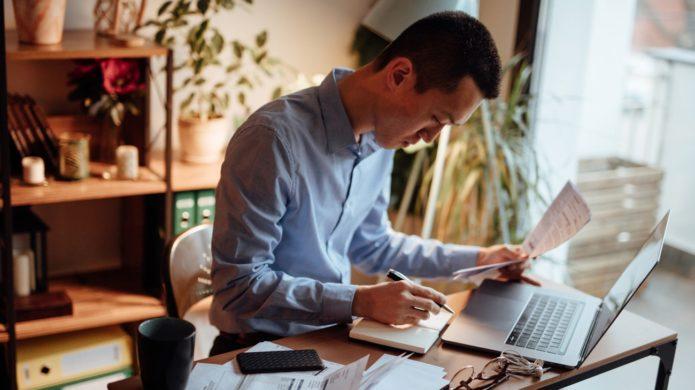 As a small business owner, you know there are few things more exciting than making the sale and filling orders. You put so much thought and effort over time building your company and developing your product or service, but in order for it to be a success and realize the dream, you need someone else to buy in and validate all your hard work.
But the work of running a small business doesn't end as soon as a customer makes an order. While it's not the most glamorous part of the job, your follow-up on the sale is crucial for maintaining cash flow and ensuring happy, satisfied customers.  
The task for business owners at this point is to handle the logistics and communication so that you deliver what the customer needs and get the promised payment for your goods or services. Many businesses create and send an invoice to express this agreement with the customer and establish the payment terms. 
What Is an Invoice?
An invoice is a document issued by the business selling a good or service. It describes exactly what the seller is providing or going to provide along with the pricing and the terms of payment. 
This is an important document for both the buyer and seller. For the buyer, it represents a promise of specific services to be delivered at an established price. It's a purchase invoice they can file as an expense they will have to pay. 
For the seller, the document is filed as a sales invoice, which also counts as an account receivable. The sale has been made and terms have been agreed too. Business owners should expect that if they comply with the delivery described in the invoice, they can expect revenue on the sale according to the invoice pricing and due date.   
1. Include All Relevant Information
An invoice needs to be thorough, but what should you include in the ideal invoice? A good invoice includes everything the seller and buyer need for verifying the terms of the deal and arranging payment. It can serve as a summary of the transaction between the two parties. Every time you create an invoice, make sure it has all of these key elements:
Contact information for buyer and supplier

Basic description of good or service to be delivered

Final amount due and pricing breakdown

Invoice date and due date for payment

Payment terms detailing how payment can be made and received

An invoice number to allow for easy filing and retrieval later
Instead of stressing out about this list every time you create an invoice, you can create uniform invoice templates with spaces for all of this information. Put that effort in now and look professional instead of having to follow up every invoice with emails to clarify ambiguous terms or fill in missing information.
2. Stick to a Standard Timeframe
If the buyer has to wait to get your invoice, then you're going to end up waiting for payment as well. Establish a system for getting your invoices out according to a uniform schedule, either right as the service is delivered or earlier. 
You will need to set the due date for payment considering the date of the invoice itself. Net 30 is the standard invoice payment term for setting due dates, and it gives customers 30 days after the date of the invoice to submit payment. 
This will also depend on how the customer is able to make payments. If you can accept credit card payments, you may be able to move up the final due date. 
3. Remember Specific Requests
Your goal in creating an invoice is to strike a balance between too much and too little information. It should be short and easy to read but include enough information to demonstrate expertise and inspire confidence in your customers. This will help you minimize invoice disputes and keep customers happy.
Don't skip the details when describing the product or service you're providing. If you've tailored your service carefully to the buyer's demands, then show that you've put in that thought and effort. You could even borrow specific language from the purchase orders to show that you're paying attention. 
4. Avoid Surprises
The last thing a buyer should get out of an invoice is an unpleasant surprise. Your invoice needs to clearly include all the fine print and payment expectations, and there shouldn't be anything significant in there that the buyer wasn't already aware of. 
Additional charges for late payments are reasonable and shouldn't be a surprise for most buyers, but they need to be described upfront as well. Make a plan for how to deal with outstanding invoices and let that guide the way you write out the invoice.
Mention any of those sorts of penalties and feel free to offer other incentives if you want to encourage early payment. If you give the buyer 30 days to turn in the payment and don't say anything else, you can't get upset with them for taking the full 30 days. 
5. Find Programs to Help 
As important as timely and well-made invoices are to any business, it can be hard to make them a priority when you're balancing so many different tasks and interests. One way to handle this is to seek out effective invoice software or other resources like free invoice templates that can help you streamline this accounting task. 
Instead of creating everything from scratch or overloading already busy staff, you can find a computer program or external company to help you keep your invoicing accurate and on time. For long-term customers, you can even set up recurring invoices so that you have one less task to worry about. 
Make Accounting a Priority
No matter how much passion you have for your work, you're not going to have a sustainable business or healthy cash flow if you don't get paid. If you're getting ready to start a business now, make efficient accounting and effective invoices a priority from the beginning.