Share Post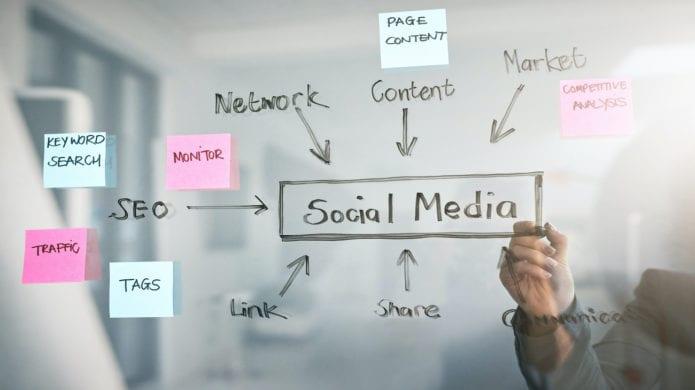 Back in the day, a small business owner utilized traditional means of marketing – mailers, emails, radio, newspapers. While today those strategies are still useful, you are doing your business a disservice if your marketing plan doesn't include social media.
How Can Businesses Use Social Media for Marketing?
 A social media strategy will help your small business in several important ways. You can: 
connect socially with your audience and customers
build brand awareness and trust
generate leads
get people to your website
increase sales
promote products and services
provide effective customer service 
While there are so many reasons for a social media strategy, you may be held back by your lack of expertise. Here are some helpful steps that will get you on your way to implementing a social media marketing plan as effectively as you run the rest of your business!
Step 1 – Select Your Platforms
Select a platform. As part of your business plan, you have a strong sense of your target market and who your audience is or who you want them to be. Based on those demographics, you can choose the social media platform you would like to use to get started. 
Starting with one platform, such as Instagram, and getting to know its intricacies will give you the confidence you need! Each platform is evolving continually, but there are basic user characteristics and types of content that are most common and sought after with each platform. 
Using a social media demographic guide can help you determine which platform is best for you by gender, age, location, and education.
Why reinvent the wheel? A great way to garner some useful information to include in your strategy is to do some competitive analysis. Check out what your competition is doing on social media. Determine what social media platforms they are utilizing and take a look at customer engagement. Follow them with a personal account and find out what is working for them and what isn't. 
Step 2 – Define Your Social Media Goals
Define your goals for your social media strategy. Determine what your business needs the most, whether it is traffic to your website, increase immediate sales, or increase local brand awareness. Start slow and build. As you gain momentum, you can change and grow your goals. The key to goals making an impact on your business is to make sure that they are measurable. 
Step 3 – Choose Your Tools
Determine the tools you will use to see if your social marketing strategy is hitting its mark. Fortunately, most platforms have a metric to determine how successful your social media content is performing. Of course, there are other indicators you can use like feedback forms from customers, increased sales, or increased visits to your website (yes, most website building platforms have a metric you can use to see how many views you are getting-check them out)!
Read up on the analysis that the platform of your choice provides. Determine if you will need additional metrics and create a plan for when and how often you will re-evaluate your strategy and its performance. 
Step 4 – Plan Your Content
Along with learning about the various measurement tools for your social media platform of choice, it is essential to understand that each platform has a type of content that typically performs better than others. For example, on Facebook, videos, and curated content perform better and are what typical users are looking for and sharing. 
Curated content is material garnered from other sites and shared. For example, a Facebook user might share a video of the Grand Canyon from a travel site or the top 10 ways to get rid of mosquitoes in their backyard. 
Common content for other social platforms:
Instagram: short and sweet, highly visual content including photos, quotes, stories, short videos
LinkedIn: curated content related to careers, company information, and professional content
Pinterest: highly visual, short and sweet infographics or photos
Twitter: news items, links to websites or blogs, GIFs
TikTok: short and sweet videos
Step 5 – Create a Content Calendar
Create a content calendar. This will allow you to stay organized and stay on track by creating content and finding curated content that is right for you and your business. You don't want to be randomly posting things because you forgot you needed to post today! Each of your posts needs to be purposeful and planned so that you don't lose credibility with your followers. Otherwise, they might unfollow you. 
You also have to establish your Goldilocks marketing plan to get it just right:
How many times will you post a week? Every day is too much, but once a week is too little. Determine what is just right for you in terms of creating the content and what is just right for your target audience.
What will you post? Determine what kinds of content your audience is likely looking for from you. Do they want informational videos, how-to articles, tips for using your products, service explanations? 
There are several strategies out there for determining the types of content you will curate and post. 
The 80/20 method in which 80% of your content is educating your existing customers on products, services, industry facts, and 20% are focused on sales, promotions, and generating subscribers. 
Another is the 5:3:2 Rule of Thumb. Five out of 10 posts are curated pieces relative to your industry and educating your customers; 3 out of 5 posts are directly related to your business in the form of product reviews, customer reviews, changes and updates; and the final 2 posts are just fun posts that help your customers get to know you, your employees and your business. 
Remember to plan ahead for holiday promotions and community events where your business will participate.
Like Goldilocks, the good news is that you don't have to get it perfect the first or second time. There will be a learning curve and continual tweaks that you will want to make as you go along. If you are doing it right, you will listen to your audience and start to tailor it to their needs and wants!
Establish a workflow for your content. If you are going to try and share a video every week or create a blog, plan the process for determining the material, creating it, editing it, and then publishing it. Get things moving down the pipeline.
Step 6 – Evaluate, Adapt, and Change
Evaluate, adapt, and then change your course of action. Follow your evaluation plan and determine if you are meeting your strategic goals and whether you need to tweak your content, number of posts, or types of posts. 
You might even want to look at what time of the day you are posting to generate more engagement. Get feedback from family, friends, and loyal customers. Find out what kinds of content your audience is engaging in and what seems to fall flat. You might be surprised that what you thought would be a hit might be a dud and vice versa. Then pivot! Being willing to adapt, educate, and make changes are the keys to your social media strategy becoming a success!
Small businesses can no longer avoid using social media. Not only is it incredibly important for building your brand and growing your small business, but it also builds credibility and trust with your customers as well. While learning anything new can be intimidating, it doesn't need to be. 
By starting slow, having a solid plan, and being willing to switch gears, your social media strategy will be working for you in no time, and the growing pains will be a distant memory. Remember it's okay to delegate and hire out. Allowing a marketing agency to help you can yield a high return on investment.