Share Post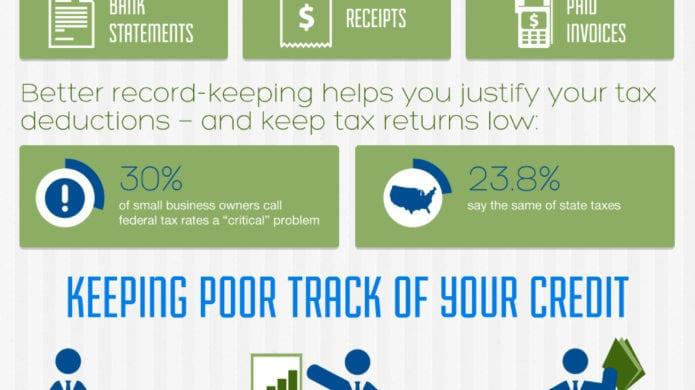 When an entrepreneur starts a new business, it's all too easy to make costly small business mistakes that leave them bleeding green instead of accumulating cash.  A new infographic from 1-800Accountant highlights the top small business mistakes that cause problems with taxes, the IRS, and cash flow.
Gary Milkwick, a CPA and vice president at 1-800Accountant, points out that one of the biggest small business mistakes is choosing a sole proprietorship instead of another business entity. "An entrepreneur starting a new business probably doesn't realize that they're costing themselves a lot of money by not selecting the right kind of business structure from the beginning," Milkwick says. They think that they should wait to form a corporation or LLC while they grow, but that can create costly issues with taxes.
Not keeping accurate, complete records is another small business mistake that can be costly.  "Bookkeeping and accounting tend to be the tasks that entrepreneurs procrastinate about. But not having the right records when you need them is costly," according to Milkwick.
Last, but hardly least, many a first-time entrepreneur misses quarterly tax filing deadlines, or make inadequate quarterly tax payments. "A lot of new business owners aren't even aware that they are required to make quarterly tax payments and file quarterly reports with state tax authorities as well as the IRS – but the penalties for missing filing deadlines don't make exceptions for new businesses," Milkwick points out.
The new infographic offers information and tips on avoiding small business mistakes, and so does a new white paper with summertime tax tips that can help small business owners, the self-employed, independent contractors, and freelance workers keep more of that they earn.  The white paper is available for free download on the resources page of the 1-800Accountant website.
To embed this Infographic on your blog by copying the following code: