Share Post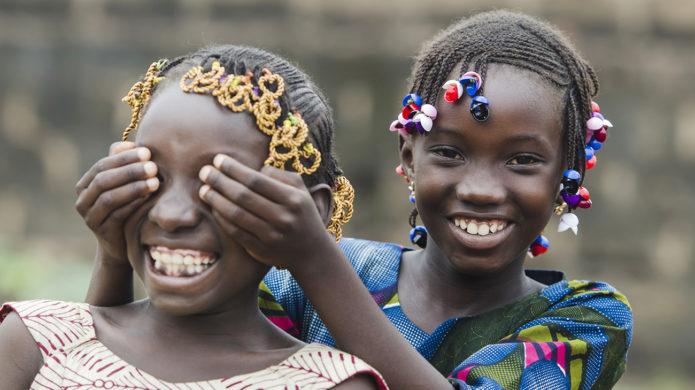 Evelyn Botwe and Andrew Oppong were high school classmates growing up in Ghana. Little did they know one day they'd be business partners in a venture that lends a helping hand to girls in need who live in their native country.
Originally established in November 2015, Adepa Wear, LLC is a clothing company based out of The Bronx, New York. The two entrepreneurs are able to run the small business right out of a home office since it does business entirely online.
"Adepa" is a word in the Twi language of Africa that means "anything of value." That's why Botwe and Oppong felt it was a good name for what they do each day – adding value to the lives of their young tailors as well as to customers who purchase their items.
"Andrew wanted to start something, and I was finishing up my Master's degree in public health from the University of New England and couldn't find a job," Botwe explains. "He likes technology and I like fashion, and we both wanted to give back to our homeland."
So, they took a trip together to Ghana where they set up an apprenticeship program for teenage girls who are victims of abuse, high school dropouts, or have endured other hardships in their lives. Botwe and Oppong now employ these girls to work as tailors to create various African-themed clothing products that they then sell online. The girls work out of a facility that Botwe and Oppong set up with a local educational company in the country.
Adepa Wear, LLC offers t-shirts, hats, dresses, skirts, slippers, and even beads made of recycled glass.
As the CEO, Botwe wears lots of hats in the business – overseeing production, product procurement, hiring and managing of the girls to work as tailors, creative design, and order fulfillment. As IT director, Oppong takes care of the technical side of selling products on the company's website and also hires freelancers to assist when needed. He handles most of the financial side of the startup as well.
Enjoyment To Self-Employment
Botwe says there are several reasons she loves doing the work she and her business partner conduct each day because of how meaningful it is in so many ways.
"Being a public health person, the story behind our business gets me up every day," she enthuses. "It's also really exciting when I fulfill and deliver an order on time. The sense of satisfaction our customers get is very rewarding."
Competing in the Clothing Industry
According to Botwe, there are two primary ways she feels Adepa Wear separates itself from the countless other clothing and apparel retailers on the market.
"We believe our story makes us unique. Plus, our prices do us a good favor."
Adepa Wear caters to both men and women, from teenagers through customers in their seventies. However, females tend to visit the company's website more often.
The online store can be found at www.adepawear.com. It also has pages on Facebook, Twitter, LinkedIn, and Instagram. The duo uses social media ads and blogging as further strategies to get the word out.
Handling Entrepreneurial Challenges
Botwe admits she's been met with several challenges to being an entrepreneur.
"Andrew and I had to quickly learn that being friends and being business partners are two very different things," she says with a laugh. We have also had to ensure all of our products meet a certain quality, and training the girls has been a very time-consuming process. Plus, learning the industry and market has been a whole new experience for both of us. It's easy to make impractical assumptions about things."
Tips For Entrepreneurs
She offers up some insightful pieces of advice for all entrepreneurs who are in search of startup success.
"You have to embrace yourself. You will think you'll know what you're getting into until you actually get into it. It's a process, so try to enjoy the process and the journey. You will get there eventually. You're allowed to have high hopes. You just have to be patient and consistent."
She adds that there are both advantages and disadvantages to being your own boss each day.
"You get some flexibility and the ability to make changes when necessary," she says. "You also get to make an impact on the world and have a venture that is bigger than just yourself. Just remember that it's not quick money. Realistically, you should not expect to earn much income in your first few years of owning a small business."
1-800Accountant Client Experience
Evelyn Botwe and Andrew Oppong say they have been satisfied with their business tax and accounting support as clients of 1-800Accountant.