Share Post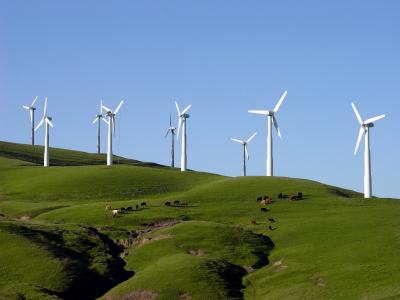 Ken Bergman's brain is constantly spinning like the blades on a windmill. Thanks to his broad knowledge on wind farm construction, Bergman decided that starting a business in this industry was the best path for him to take in his varied career.
Bergman, a 1-800Accountant client, started Mountainman Wind Energy, LLC in May 2014. The startup is officially registered in Nevada, but Bergman lives in Boise, Idaho and travels around the country to conduct his trade. He's a one-man band and is able to run the enterprise on his own.
"The name of the company is a play on my last name," Bergman says. "'Berg' in German is 'mountain,' and 'man' or 'mann' means 'man' or 'person.'"
Through Mountainman Wind Energy, LLC, Bergman offers various wind energy farm construction consulting services.
"I basically serve as an on-site representative at wind farms," Bergman explains. "I help handle all the matters between the wind farm owner and any contractors or subcontractors who are working on their wind farms. I make sure these parties understand the costs involved and know what they are all getting into. It's more administrative work."
Bergman has done this type of work for the past 9 years, previously as a subcontractor for another company before starting a business for himself. He has traveled from New York to California  in his careerfor his work.
Bergman mainly works on inland wind farms and oversees the operations of wind turbine generators (WTGs). These machines, which are usually about 80 meters high, convert the kinetic energy from wind to produce usable electricity in a specific area. Wind farms are made up of several WTGs and are designed to reduce the reliance on fossil fuels for energy. They have become more prevalent around the world with the push for more environmentally-friendly energy sources.
Bergman says it was a combination of skills he's honed over time that led him to start his own small business in the form of an LLC.
"I have a background in civil construction, auditing, and accounting, so I felt like that was a good mix for me to be able to handle running a company like this," he says.
Just like all other small business owners, getting customers is what it's all about to maintain long-term success. For Bergman, this means building up his contact list so that he can conduct his consulting work and ensure each wind farm he visits is being managed properly.
As for what he enjoys most about this type of work, he says the ability to travel and the variation in his schedule are both challenging yet exciting at the same time.
"The challenge of keeping up with everything as it flows along is actually pretty enjoyable," he explains. "A lot of times, I only have a short period of time to get everything done. There's rarely a boring day when working on a wind farm."
Competition is a huge aspect of most industries, but it presents itself in different ways. Bergman says he often consults with site managers, electrical managers, and others when working on a project. Because of this, he doesn't view himself as having lots of direct competition from other small businesses, but he admits word-of-mouth referrals are a big part of the energy field.
Tips for Entrepreneurs
In addition to hard work and persistence, Bergman offers an extremely important piece of advice to entrepreneurs in all industries.
"Document, document, document," he says. "Everything from expenses to receipts to any type of work you do for others has to be documented. The IRS is not very forgiving."
He adds that there are both advantages and disadvantages to small business ownership.
"There is a lot of liability if you don't have a formal business entity like an LLC. Plus, when you aren't working for an employer, you have to do your own accounting, taxes, payroll, and everything else to fulfill your requirements as a business owner. But if you love what you do, I think it's worth it."
Bergman says he has been very satisfied with the small business accounting support he has gotten from 1-800Accountant.
Learn more about Bergman by visiting his LinkedIn profile.
Photo credit: The image of the wind farm is used with permission via the Creative Commons license through Flickr.